Post by alien_scream on Apr 17, 2006 13:53:25 GMT 8
i'm just sharing this article taken from BMX PLUS (applicable also on MTB)... many are asking how to bunnyhop so maybe this article could help you out!!!! thanks!!!!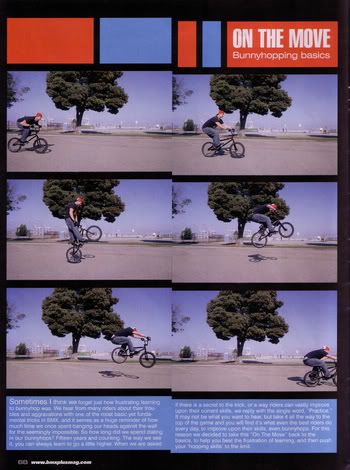 ARTICLE: Sometimes i think we forget just how frustrating learning to bunnyhop was. We hear from many riders about their troubles and aggravations with one of the most basic yet fundamental tricks in BMX, and it serves as a huge reminder of how much time we once spend banging out heads against the wall for the seemingly impossible. So how long did we spend dialing in our bunnyhops? Fifteen years and counting. The way we see it, you can always learn to go a lottle higher. When we are asked if there is a secret to the trick, or a way riders can vastly improve upon their current skills, we reply with the single word, "PRACTICE." It may not be what you want to hear, but take it all the way to the top of the game and you will find it's what even the best riders do every day, to improve upon their skills, even bunnyhops. For this reason we decided to take "On The Move" back to the basics, to help you beat the frustration of learning, and push then push your 'hopping skills' to the limit.
ARTICLE: Bunnyhopping is a mind game, so having a positive, light and a right-thinking mind will help you that much more. When bunnyhopping, it dosen't really matter hoe fast you go until you start hopping over or up things. Start with compressing into your bicycle (mountain bikers refer to this as "pre-loading"). As soon as you are compressed into your bicycle, you'll want to explode upwards, giving a yank, pull, heave or whatever you prefer to call it as high as you can. When you pull up, pull the bars towards your stomach and then push them away from your body so that your bike does an arching wheelie, bringing the seat between your knees. Quick reminder! When pulling up, give your wrists a slight rotation forward, this will help level the bike after you've pulled it into a wheelie and off the ground. Make sure not to be afraid to get that seat as close to your noggin as you can, meaning you want to be tuck once you've pulled that bike off the ground. When coming in for the landing, just gnetrly set her down as an airplane by lowering the back end, followed by the front. That should be able to get you doing the bunnyhops you've always wanted to do.