Post by arcireyes on Nov 16, 2007 10:08:23 GMT 8
everybody have an inspiration and i consider my kuya rocky as my inspiration sa biking.
after abusing myself during my adult life with almost 32 years of smoking and weekend drink till you drop sessions, i suddenly woke up one night gasping for breathe and told myself that this is not the right thing to do with God's Temple, our body, i asked God in prayer to help me survive the night and promised to be kind to His Temple. the next day i quit smoking "Cold Turkey", avoided drinking and took up some daily physical activities ( i started with brisk walking 30 mins every night around our factory compound ), eventually as my lungs cleared-up i was able to do regular morning jogs and weekend badminton and basketball game. eventually my aging osteoarthiritic right knee finally almost gave up from the rigors of running, badminton and basketball. between swimming and cycling (that my orthopaedic doc asked me choose) i picked cycling. bought myself a second hand hybrid bike and started my weekend UP spins with it ( i thought that it was all there is to cycling,a weekend UP spin hehehe ).
unfortunately, after almost a year of UP spinning bliss, my hybrid was stolen and i would be back to running as i waited for a chance to build another hybrid bike. my boss (who is a roadie himself)would be generous enough to gift me with an mtb hybrid when he found-out that i have stopped biking as a result of my bike's loss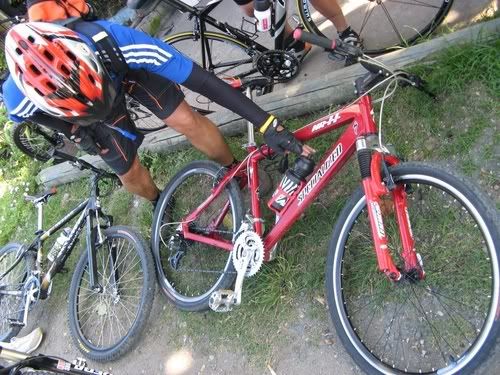 that hybrid would jumpstart my mtbiking career (parang showbiz hehehe) i listed up for membership sa PCN where i met my biking buddy, ronald, who would later on introduce me to P M TB "brad andito ang aksiyon" (trans:this is where the action is / parang D'Sensation ah of the '70s era hehehe). here i would be guided during my newbie days by my kuya rocky with whom i have a lot of newbie rides with....sierra madre ("psych yourself up, kayang-kaya mo yan.......be patient...........spin your way to the top") which i did.......abuyod-pinugay.....after the cramp a few meters to the trailend......("pahinga ka lang malapit na tapos sakay na tayo ng jeep sa morong" and upon reaching flying V in antips....."si arci sa tangke ko na yan...sabay na kami niyan") bugarin....."spin spin lang brad parang sierra lang yan mas madali pa"........caliraya ride.......while riding abreast with him somewhere in pangil.......shouting..... "ANG SARAP MABUHAY SA MUNDO!!!!!" the man inspired me to ride and enjoy mtbiking as i enjoy nature..... i almost forgot that i was biking to fight head-on with my hypertension, that i was re-building a lung ravaged by 32 years of nicotine abuse, that i was trying to keep a 52 year old body in tiptop physical shape, he made me forgot that we are oldies as we together did the reverse palace ride, as we redux sierra madre (albeit my bailing out at garden cottage) countless trails we rode together all for the love of mountainbiking and nature.....my kuya rocky inspired me to ride and forget about my age
he is an embodiment of survival with a capital S
put me in the list of invitees brad in the "kambak" ride, i'm sure we'll have so many rides lined up with you on your EX 9.5 Trekkie and me in my SSimple rig
the P M T B sweeping tandem is back
;D

PADYAK LANG NG PADYAK!!!!!!!!!!
LIVESTRONG